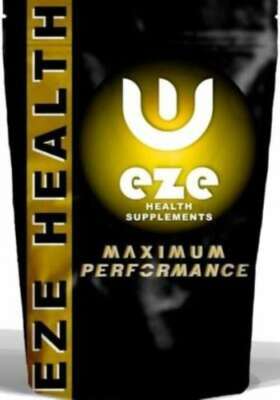 Type of auction :

Buy it Now

Condition :

New

Category :

Health & Beauty:Vitamins & Dietary Supplements:Vitamins & Minerals

Time left :

26 days, 9 hours, 36 minutes

Ships to :

United Kingdom

Return policy :

Yes (14 days)

Seller :

ezetrading (99.4%)

Stock :

1345 Available (708 sold)

Viewed :

7338 times
Product Details
Country/Region of Manufacture :
United Kingdom
What the Seller Says
Seleenium 200mcgSelenium: A trace mineral with multiple benefits, from arthritis support to cardiovascular health. Powerful antioxidant that protects cell membranes and intracellular structural membranes from lipid peroxidation May support cardiovascular health May help rid the body of toxic heavy metals Reduced selenium levels have been linked to joint disorders Low dietary intake of selenium has been linked to higher rates of various degenerative diseases May support healthy immune function May support healthy brain function What is Selenium? Selenium is a trace mineral that is essential to good health but required only in small amounts. Selenium is incorporated into proteins to make selenoproteins, which are important antioxidant enzymes. The antioxidant properties of selenoproteins help prevent cellular damage from free radicals. Free radicals are natural by-products of oxygen metabolism that may contribute to the development of chronic diseases. Other selenoproteins help regulate thyroid function and play a role in the immune system. Selenium is recognised as an important element of nutrition. Selenium is an important part of the antioxidant enzyme glutathione peroxidase. It helps protect cells against the effects of free radicals that are produced during normal oxygen metabolism. The selenium used in our product is derived from selenomethionine. Who needs Selenium and what are symptoms of deficiency? In most cases of selenium depletion or deficiency are associated with severe gastrointestinal problems, such as Crohn's disease, or with surgical removal of part of the stomach. These and other gastrointestinal disorders can impair selenium absorption. People with acute severe illness who develop inflammation and widespread infection often have decreased levels of selenium in their blood. Physicians will evaluate individuals who have gastrointestinal disease or severe infection for depleted blood levels of selenium to determine the need for supplementation. Amount Per Serving: Selenium (as L-selenomethionine) 200mcg with zinc Other Ingredients: Rice flour, cellulose, magnesium stearateDose take one tablet per day. We are a family run, UK registered business and our customers needs come first. we understand concerns when it comes to purchasing supplements onlineWe value your custom and aim to deliver the highest standards in service with quality of our products.Postage.Free postage .All deliveries sent same day if bought before 2.30Letter box friendly, no need to be in sent in a foil sealed pouch or bottle depending on availability, in a plain Jiffy bagReturns policyWe offer a full money-back guarantee on all of our products.If you change your mind and would like to return your order for any reason - it's not a problem. We are more than happy to refund or exchange your purchase. Please contact us through the eBay messaging service, Disclaimer: This product is not intended to diagnose, treat, cure or prevent any disease.Please consult with your Health Care Professional before taking any dietary supplements,especially if you are pregnant, breastfeeding or have a serious medical condition.Please make sure you aren't allergic to the natural herbal ingredientsDo not exceed recommended dosage stated We are unable to guarantee that this supplement will work for everyone.