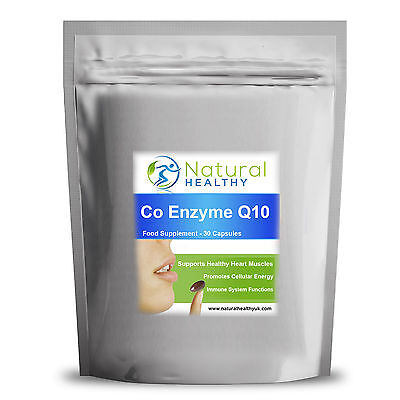 Type of auction :

Buy it Now

Condition :

New

Category :

Health & Beauty:Vitamins & Dietary Supplements:Vitamins & Minerals

Time left :

22 days, 0 hours, 0 minutes

Ships to :

United Kingdom

Return policy :

Yes (30 days)

Seller :

naturalandhealthyuk (99.6%)

Stock :

389 Available (341 sold)

Viewed :

4415 times
Product Details
Country/Region of Manufacture :
United Kingdom
Main Purpose :
General Wellness
Unit Quantity :
30 capsules
Product Form :
Capsule softgels
What the Seller Says
NATURAL & HEALTHY UK ________________________________________________________________ Description: 30 Co-Enzyme Complex Formula Co-enzyme Q10: CoQ10 has strong antioxidant properties and plays an essential role in our energy. It is found within every cell of our body and especially concentrated in energy intensive cells such as within the heart and skeletal muscle. It is used by the body to transform food into adenosine triphosphate (ATP), the energy on which the body runs, and it play a key role in the release of energy from cells into muscle. This is why it is often referred to as the 'spark plug of life'. As we age our bodies production of Co-enzyme Q10 declines. This places a higher reliance on our diet to provide the necessary levels of this key nutrient. Co-enzyme Q10 Capsules provide a commonly recommended daily dose and are great option for maintaining healthy CoQ10 levels in the body. Our capsules help support heart function and energy production. Additionally, it is now widely known that CoQ10 may be important for people taking cholesterol-lowering statin drugs because statin drugs can reduce CoQ10 levels in the body. Soybean oil: Eye and Skin Health: Omega-3 fatty acids, which make up 7% of the total fatty acid content in soybean oil, are integral to protecting the cardiovascular system in the role of scraping our "bad" cholesterol, but it also protects cell membranes. This includes the very fragile and dangerous areas of the skin and eyes, both of which are common entrance points for bacteria and other foreign materials. These omega-3s also promote healthier vision by acting as antioxidants and neutralising free radicals that can cause macular degeneration and cataracts. Antioxidant Potential: The high vitamin E content in soybean oil also acts as a powerful antioxidant while similarly protecting the skin from the damage of fee radicals. Vitamin E is directly associated with improving the appearance of blemishes, reducing acne scarring, protecting the skin against sunburn, and stimulating the regrowth of new skin cells to promote healing. Vitamin E is also associated with general antioxidant activity in the rest of the body, which boosts the immune system and helps to eliminate free radicals that cause certain conditions like, premature ageing, cognitive disorders, and he.art dis.eases. INGREDIENTS: Each capsule contains: Coenzyme Q10 30.6mgNatural Vitamin E 5mgSoybean oil 444mgOther ingredients: Distilled Monoglycerides, Gelatin, Glyceride, Purified Water, Brilliant bule, Allura Red AC Titanium Dioxide. USAGE: Take 1 capsule twice a day, preferably with food. Do not exceed the recommended daily intake. Warnings: supplements must not be used as a substitute for a varied and balanced diet and a healthy lifestyle. Not recommended for use by pregnant or lactating women. If you are taking any medications, please consult a doctor before use. Discontinue use and consult a doctor if adverse reactions occur. Not intended for use by persons under the age of 18. Keep out of reach of children. Store in a cool, dry place. Disclaimer: These products are not intended to diagnose, treat, cure or prevent any illness or disease. for diagnosis or treatment consult your physician. This supplement does not claim to be able to allow you to miraculously lose weight while living the lifestyle that you want to. The supplement is for weight management and can support your weight loss plan through the use of this supplement and healthy lifestyle changes combined. You must adhere to a varied & balanced diet with some moderate daily exercise. SHIPPING Fast & Free UK Delivery 1st class Royal Mail. 1-3 Working daysInternational EU airmail standard delivery. 3-12 Working daysInternational Rest of the World airmail standard delivery 5-25 working daysWe Dispatch on the Same Working day when payed before 10am. PAYMENT WE ACCEPT ONLY PAYPAL PAYMENTS AT THE MOMENT. ABOUT US Natural Healthy UK Manufactured Brand Under The Stricest GMP Standards Low Price High Quality Supplements Made with finest raw ingredients sourced from all over the world Natural Healthy Nutritional Supplements are formulated to meet the highest standards for potency and purity.